Fr. Nicholas Oboh Abducted in Nigeria
Fr. Nicholas Oboh of the Diocese of Uromi was abducted on February 14, 2020 by gunmen in Benin City, Edo state, southern Nigeria. Local news outlets are reporting that several children were kidnapped with Father Oboh.
Fr. Oboh is the parish priest at St. Patrick's Catholic Church at Ebudin.
Fr. Osi Odenore, chancellor of the Uromi diocese, says that they are now working to secure Fr. Oboh's return and are requesting prayers for his release.
"We are sure that he is alive, and since the incident, steps have been taken to ensure that Rev. Fr. Nicholas Oboh is released without any harm,"
Christians at risk
According to the 2011 Pew Report, there are over 80 million Christians in Nigeria. Of this population 20 million people are Catholic.
Nevertheless, attacks on Christian communities Nigeria are escalating. The kidnapping of Fr. Oboh and the children is one in a long line of incidents of religious persecution against Christians:
On January 8, 2020, Michael Nnadi, 18, Pius Kanwai, 19, Peter Umenukor, 23, and Stephen Amos, 23 were abducted by gunmen from Good Shepherd Seminary in Kaduna. Pius, Peter and Stephen were released but Michael was murdered by their abductors.
Also in January, Reverend Lawan Andima, 58, was abducted by Boko Haram. Rev. Andima was a pastor with the Church of the Brethren and the Chairman of the Christian Association of Nigeria at Michika town. He and his wife had nine children. He was beheaded on January 20, 2020.
On February 10, 2020 approximately 30 people, including a heavily pregnant woman and her baby, were massacred by Boko Haram insurgents who invaded Auno village in Borno State.
In 2018, four Nigerian Bishops spoke to Vatican News about the attacks on Christians in Nigeria. William Avenya, Bishop of Gboko, Wilfred Anagbe, CMF of Makurdi Diocese, Michael Ekwoy Apochi, Bishop of Otukpo and the late Peter Adoboh, Bishop of Katsina-Ala remarked, "The government apparatus is completely, as it seems to us, helpless, dysfunctional or deliberately helpless and deliberately dysfunctional."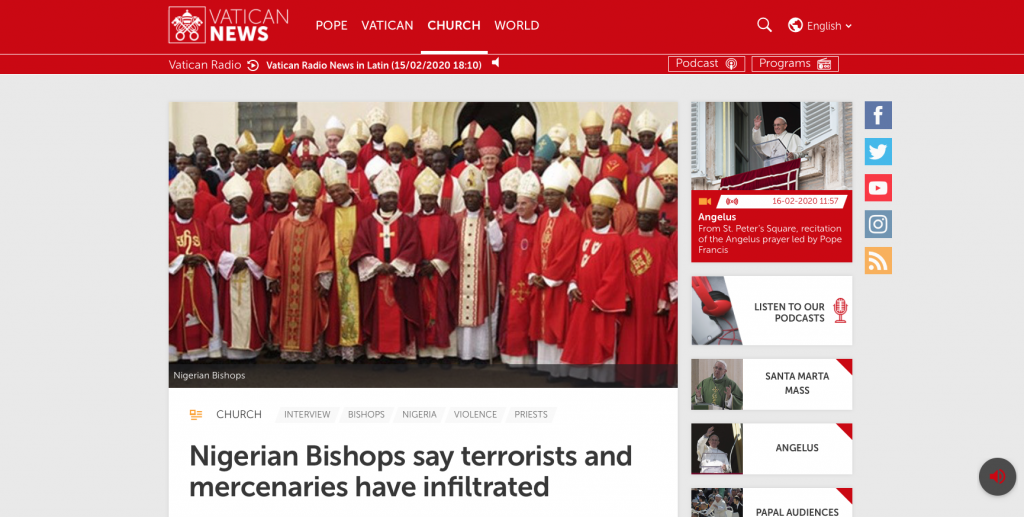 Statement from Archbishop Augustine Obiora Akubeze
On February 7, 2020 Archbishop Augustine Obiora Akubeze, President of the Catholic Bishops Conference of Nigeria, made a strong statement about the religious persecution of Nigerian Christians:
"The current situation in Nigeria reflects an unnecessary, unwarranted and self-inflicted tension. A politically polarized nation. The President of Nigeria recently stated that he was shocked at the unabated killing of Nigerians, who are mostly Christians. Many Nigerians wonder whether the president lives in a parallel universe.
"How can he be surprised at this time? After some of us have attended mass burials of Christians killed by Boko Haram? The government is certainly not doing enough to protect both Christians and Muslims."
Prayers for Fr. Nicholas Oboh and Christians in Nigeria
Please remember Fr. Nicholas Oboh, the children who were kidnapped with him and all of the Nigerian Christians who are being persecuted in your Rosary intentions as we mediate on the Glorious Mysteries today.
Fatal error: Uncaught Error: Call to undefined function get_magic_quotes_gpc() in /customers/f/c/0/societyoftheholyrosary.com/httpd.www/wp-content/themes/chapel/framework/lib/eltdf.functions.php:208 Stack trace: #0 /customers/f/c/0/societyoftheholyrosary.com/httpd.www/wp-content/plugins/chapel-core/shortcodes/social-share/social-share.php(186): chapel_elated_addslashes('Fr. Nicholas Ob...') #1 /customers/f/c/0/societyoftheholyrosary.com/httpd.www/wp-content/plugins/chapel-core/shortcodes/social-share/social-share.php(132): ChapelCore\CPT\Shortcodes\SocialShare\SocialShare->getSocialNetworkShareLink('pinterest', Array) #2 /customers/f/c/0/societyoftheholyrosary.com/httpd.www/wp-content/plugins/chapel-core/shortcodes/social-share/social-share.php(100): ChapelCore\CPT\Shortcodes\SocialShare\SocialShare->getSocialNetworksParams(Array) #3 /customers/f/c/0/societyoftheholyrosary.com/httpd.www/wp-content/themes/chapel/framework/lib/eltdf.functions.php(1203): ChapelCore\CPT\Shortcodes\SocialShare\SocialShare->render(Array, NULL, 'eltdf_social_sh...') #4 /customers/f/c/0/societyoftheholyrosary.com/httpd.www/wp-content/plugins/chapel-core/shortcodes/social-share/functions.php(38): chapel_elated_execute_shortcode('eltdf_social_sh...', Array) #5 /customers/f/c/0/societyoftheholyrosary.com/httpd.www/wp-content/themes/chapel/framework/modules/blog/templates/parts/post-info/share.php(6): chapel_elated_get_social_share_html(Array) #6 /customers/f/c/0/societyoftheholyrosary.com/httpd.www/wp-content/themes/chapel/framework/lib/eltdf.functions.php(870): include('/customers/f/c/...') #7 /customers/f/c/0/societyoftheholyrosary.com/httpd.www/wp-content/themes/chapel/framework/lib/eltdf.functions.php(891): chapel_elated_get_template_part('framework/modul...', '', Array, false) #8 /customers/f/c/0/societyoftheholyrosary.com/httpd.www/wp-content/themes/chapel/framework/modules/blog/templates/singles/standard/post.php(34): chapel_elated_get_module_template_part('templates/parts...', 'blog', '', Array) #9 /customers/f/c/0/societyoftheholyrosary.com/httpd.www/wp-content/themes/chapel/framework/lib/eltdf.functions.php(870): include('/customers/f/c/...') #10 /customers/f/c/0/societyoftheholyrosary.com/httpd.www/wp-content/themes/chapel/framework/lib/eltdf.functions.php(891): chapel_elated_get_template_part('framework/modul...', 'standard', Array, false) #11 /customers/f/c/0/societyoftheholyrosary.com/httpd.www/wp-content/themes/chapel/framework/modules/blog/blog-functions.php(594): chapel_elated_get_module_template_part('templates/singl...', 'blog', 'standard', Array) #12 /customers/f/c/0/societyoftheholyrosary.com/httpd.www/wp-content/themes/chapel/framework/modules/blog/templates/singles/standard/single.php(3): chapel_elated_get_single_post_format_html('standard') #13 /customers/f/c/0/societyoftheholyrosary.com/httpd.www/wp-content/themes/chapel/framework/lib/eltdf.functions.php(870): include('/customers/f/c/...') #14 /customers/f/c/0/societyoftheholyrosary.com/httpd.www/wp-content/themes/chapel/framework/lib/eltdf.functions.php(891): chapel_elated_get_template_part('framework/modul...', '', Array, false) #15 /customers/f/c/0/societyoftheholyrosary.com/httpd.www/wp-content/themes/chapel/framework/modules/blog/blog-functions.php(568): chapel_elated_get_module_template_part('templates/singl...', 'blog', '', Array) #16 /customers/f/c/0/societyoftheholyrosary.com/httpd.www/wp-content/themes/chapel/framework/modules/blog/templates/singles/holder.php(4): chapel_elated_get_blog_single_type('standard') #17 /customers/f/c/0/societyoftheholyrosary.com/httpd.www/wp-content/themes/chapel/framework/lib/eltdf.functions.php(870): include('/customers/f/c/...') #18 /customers/f/c/0/societyoftheholyrosary.com/httpd.www/wp-content/themes/chapel/framework/lib/eltdf.functions.php(891): chapel_elated_get_template_part('framework/modul...', '', Array, false) #19 /customers/f/c/0/societyoftheholyrosary.com/httpd.www/wp-content/themes/chapel/framework/modules/blog/blog-functions.php(548): chapel_elated_get_module_template_part('templates/singl...', 'blog', '', Array) #20 /customers/f/c/0/societyoftheholyrosary.com/httpd.www/wp-content/themes/chapel/single.php(22): chapel_elated_get_blog_single('standard') #21 /customers/f/c/0/societyoftheholyrosary.com/httpd.www/wp-includes/template-loader.php(106): include('/customers/f/c/...') #22 /customers/f/c/0/societyoftheholyrosary.com/httpd.www/wp-blog-header.php(19): require_once('/customers/f/c/...') #23 /customers/f/c/0/societyoftheholyrosary.com/httpd.www/index.php(17): require('/customers/f/c/...') #24 {main} thrown in /customers/f/c/0/societyoftheholyrosary.com/httpd.www/wp-content/themes/chapel/framework/lib/eltdf.functions.php on line 208