Saint Maximilian Kolbe bore witness at Auschwitz through an act of mercy that lingers in the heart and mind but also the soul. Many lovers of the Holy Rosary use The Immaculata Prayer he wrote on a daily basis, so his living testimony is never far from us and serves to edify our relationship with the Blessed Virgin Mary.
THE IMMACULATA PRAYER BY ST. MAXIMILIAN KOLBE
Pray for us, O Holy Mother of God
that we may be worthy of the promises of Christ.
O Immaculata, Queen of Heaven and earth,
I renew my consecration to you for this day and for always,
so that you might use me for the coming
of the Kingdom of Jesus in the whole world.
To this end, I offer you
all my prayers, actions and sacrifices of this day.
Amen.
In these difficult days, it is important to remember the faithfulness and endurance of the Saints. They set the standard to which we aspire: to be prepared for the moments when we are called upon to imitate Christ the King with acts of charity, humility, grace and good will.
It is important to talk about the lives of the Saints, to share their stories and learn from their example. They teach us that adversity can be a sacred opportunity to become more dedicated in our service to Our Heavenly Father.
Saint Maximilian Kolbe Featured on Medium
To lend greater depth to the experience of the Rosary, we shared the story of Saint Maximilian on February 11, 2020. The article 'Saint Maximilian Kolbe – The Essential Guide to the Saint of Auschwitz' was submitted to Medium the same day.
This morning their team sent a delightful message to us:
"Our curators just read your story, Saint Maximilian Kolbe — The Essential Guide to the Saint of Auschwitz, that you submitted for review. Based on its quality, they selected it to be recommended to readers interested in Religion across our homepage, app, topic page, and emails."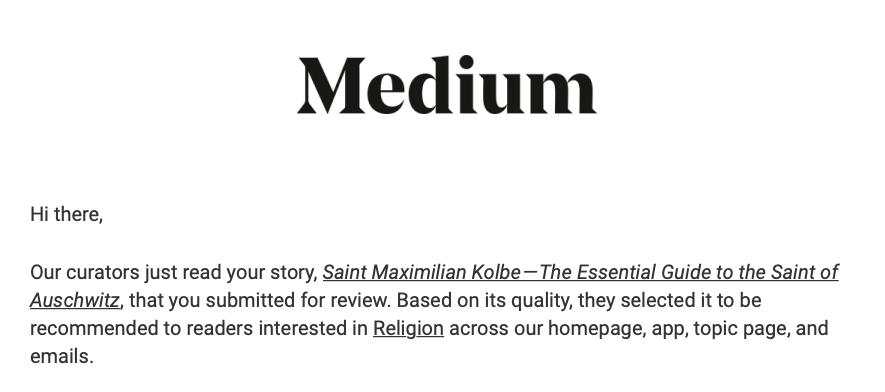 We are grateful to the team at Medium for supporting our work. We'll keep talking about the lives of the Saints because they remind us how what happened 2000 years ago shapes the events of the here and now.
If you enjoy our articles, follow The Society of the Holy Rosary on Medium.
We are also very grateful to Anuj Agarwal who contacted us to let us know that Society of the Holy Rosary has been selected as one of Feedspot's Top 100 Catholic Blogs on the web!