Saint Sulpice The Pious is a Roman Catholic saint. During his earthly sojourn he became known an extraordinary evangelist and spiritual teacher. His devoted his life to fostering faith, discipline, and structure in the church as well as relentless acts of service to the poor. His Feast Day is celebrated on January 17.
Who was Saint Sulpice the Pious?
He was born sometime in the latter half of the sixth century to an affluent noble family in the village of Vatan, located in the Center Region of the Val-de-Loire, France. In his early youth, he was an enthusiastic student of Holy Scripture and soon became known for his philanthropic nature.
As a nobleman, he was destined for a life of wealth and comfort. However, he chose to abstain from the sacrament of marriage in favor of Holy Orders so that he could dedicate his life to performing acts of charity and ministering to the poor.
What did Saint Sulpice the Pious do?
Sulpice was consecrated by Austregisilus, Bishop of Bourges. An ambitious and effective priest, Sulpice quickly rose through the ranks of the church hierarchy and became the head of the episcopal school in his diocese. He shone brightly in his role as a spiritual advisor, community organizer, and educator and became so renowned that Clotaire II, King of the Franks, appointed him chief chaplain of his armies. Sulpice remained in this position until the death of his mentor Austregisilus around 624, when he succeeded him as Bishop of Bourges.
Sulpice served as Bishop of Bourges from 626 to 646. During his tenure, he was well attuned and sensitive to the needs of his flock. His piety and compassion commanded the respect of commoners and kings alike. He proved to be an excellent diplomat, successfully advocating for his parishioners with King Dagobert against excessive taxation. Moreover, Sulpice was a great evangelist who never ceased to care for, educate, and support the poor.
Why did Saint Sulpice the Pious become a saint?
The works of Sulpice were manifold but he is best known for the way he shaped the world around him through hardworking, education, charity, and community. He achieved this by establishing Saint Sulpice Abbey, a Benedictine monastery at his Bourges, and a nunnery called Saint-Pierre le Puellier.
Medieval monasteries and nunneries were institutions of enlightenment and organization. They produced generations of industrious monks and nuns as skilled at agriculture and practical arts as they were at philosophy and theology. Benedictine monasteries were once the backbone of European culture. They were known for their development of advanced water-powered technologies that were used to power mills and create textiles. They built irrigation pathways that transformed agriculture, surpassing the Romans in their organizational skills. Their agricultural produce generated markets and fairs, further strengthening communities. For this reason, monasteries were a powerful driving force in medieval economies. At one point, there 37,000 active monasteries in Europe.
Not only did the monks serves to guide spiritual and economic life, they also transformed the educational landscape. At monasteries and nunneries, ancient historical manuscripts were transcribed and translated. Monasteries were the foremost record keepers of the age, and their meticulous work soon formed some of the greatest libraries in Europe.
Under the stewardship of Sulpice, Bourges became a thriving religious, economic, and educational center that continued to grow in prosperity for several centuries. Over time, his influence was woven into the cultural fabric of the land.
He retired at his eponymous abbey, where he lived until his death on January 17, 646.
Tributes to Saint Sulpice
During the 13th century a church was built in the Latin Quarter of the 6th arrondissement in Paris and dedicated to Saint Sulpice the Pious. To the east of the church is Place Saint-Sulpice, a public square featuring a magnificent Fontaine Saint-Sulpice, also known as the Fountain of the Four Bishops.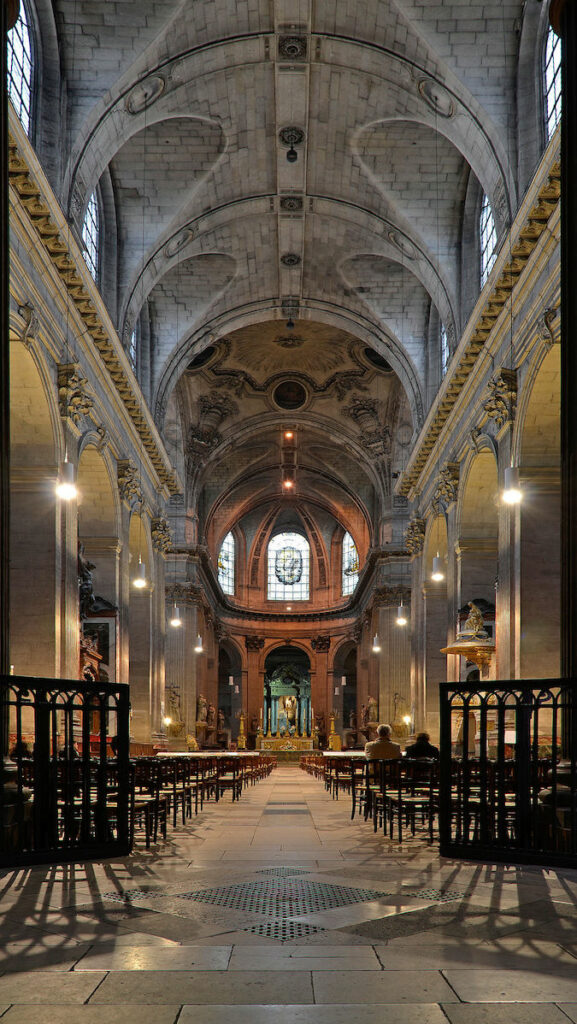 It increased in size over the years, becoming the second largest church in Paris after the Cathedral of Notre Dame de Paris. Ain 1646, a new building was erected there by the Catholic priest and mystic Jean-Jacques Olier. At this location, Father Olier established a seminary and religious institute, and the Society of Priests of Saint-Sulpice.
References
Editors, Catholic Online, 'St. Sulpicius', Saints and Angels. Retrieved April 18, 2022 from Catholic Online.
Dégert, Antoine. 'Sulpitius.' The Catholic Encyclopedia. Vol. 14. New York: Robert Appleton Company, 1912. April 18, 2022.
Photo by Pierre Poschadel.